Floor Sanding and Refinishing Suwanee GA
If you're looking for top-notch floor sanding and refinish services in Suwanee GA, look no further than our experts at Precise Remodeling.
Each and every floor restoration and repair job takes a significant amount of knowledge, gear, and time, which means that it's a great idea to work with a firm that has dealt with these issues in the past.
You want to make sure that your floors will be sanded and refinished correctly so that they will look great and last for many years.
If you would like to refinish your hardwood floors or install new laminate flooring, we can bring you our expertise.
Over the years floors receive scratches, sun discoloration, and natural damage.
Renovate your floors in Suwanee GA
Sanding and refinishing your floor is among the most significant things you can do if you want to revamp your house's floor. If you would like to do wood floor sanding and refinishing services, you have to hire an expert or have damages on your floors.
Even the tiniest bit of damage on the floor from a mistake can cost you a new floor, which will require more time and investment.
And to prevent damaging your floor further, we come to the rescue.
For 10 years, Precision Remodeling has offered flooring installation services. Our skilled experts are committed to saving their customers time and money on high-quality products and services.
We can easily turn any flooring project into a brand-new and stylish floor in no time and with minimum investments.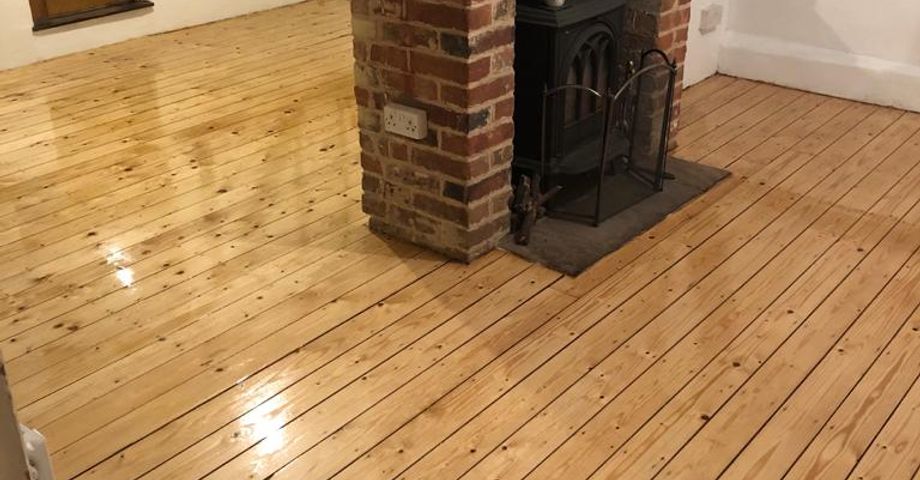 Our client's opinions and views on their floor project are important to us, and we aim to satisfy them.
We create estimates on the place and once we start, you will be receiving the step-by-step process to make everything easier for you.
If you have any questions or wish for changes to be done, we would be happy to assist you.
How the floor sanding and refinishing process works in Suwanee GA
We start with any necessary trim or carpet removal exposing the desired areas which need to be sanded.
In this stage, we will evaluate and know if any additional work is required before the vinyl flooring restoration as well as if any sounds can be eliminated or require solve by the customer.
Thoroughly sand the entire floor with various steps using the required equipment and various grits. We mostly use floor sanders, edgers, buffers, and palm sanders.
Vacuum the whole floor, so no dirt can spread around your home.
After that, we will typically apply the stain selected as well as one coat of sealer followed by two coats of polyurethane.
After completion, we install the necessary transition strips, wall trims (if required), and debris cleaning.
What do our floor sanding and refinishing services in Suwanee GA offer
Floor repairs – Repair any damaged floor and trim it whenever required by our clients, or the situation requires it.
Cleaning the floor – Once the first steps of your floor trimming have finished, we clean the leftovers and ensure that dirt will not spread around. Cover the doors, vents, windows, and other surfaces if needed to prevent dust from traveling throughout the property.
Sanding – We use professional sanders and machines, to make your floor look brand-new.
Applying floor finish – Outlining the areas, which require floor finishing appliances and start applying the wax for making the floor look newer.
Staining – Apply one or two coats of stain (as much as the floor requires) before finishing your floor project.
Screen & Coat – Buff your sanding hardwood floors. In this process, we will apply a layer of polyurethane to cover and protect the hardwood from stains, scratches, and other damages. After the screening process, we add a new coat to it.
Our Remodeling Services in Suwanee GA also offer you