Staircase Renovation Services in Ellenwood GA
If you're considering renovating your staircase in Ellenwood GA, Precision Remodeling has a variety of staircase renovation and remodeling services to choose from.
Whether you're looking to update the look of your staircase or improve its function, we are always here to help.
We remodel and informational purposes for indoor and outdoor staircases, using all kinds of custom designs.
Staircases are one of the hardest to break and require the least maintenance, but accidents can always happen. Renovating your staircase gives you an opportunity for a new style and options for your home.
Contact us
Each call made from our website will ensure you 15% off from your order
Monday to Friday: 08:00 – 21:00
Saturday to Sunday: 08:00 – 20:00
We accept any remodeling calls in Georgia for any of our 50+ supported areas
Remodel your staircase in Ellenwood GA
When it comes to remodeling and renovating, we understand that you may wish to fully remodel your staircase, which may require a professional touch and time for planning.
We from Precision Remodeling can be your lifetime partner and help you throughout the process of planning and finishing the whole installation of the new staircase.
We have more than 10 years of experience in remodeling and renovating staircases in Ellenwood GA.
Even the hardest and most complex staircase renovating services is a challenge that we would like to take and do for you.
In the early stages of planning your new staircase layout, we'll be aiding you with every facet of the process to help ensure we can help you achieve the greatest value from our services.
Each of our jobs is custom made and you can choose any type of material for remodeling/renovating your existing staircase.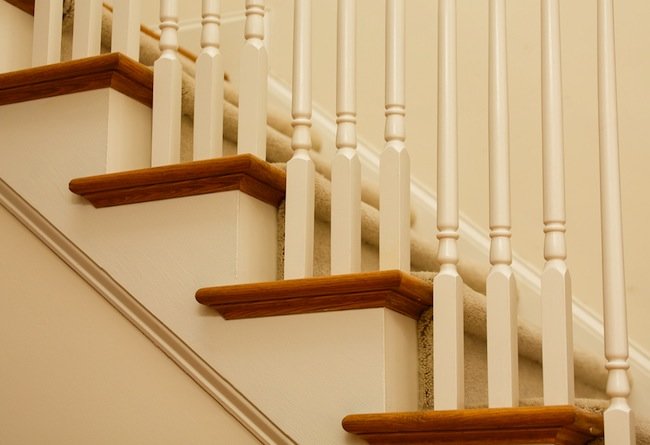 Even if you are looking to install a staircase in your house or apartment we would be happy to assist in the process until your project is finished.
If you have chosen materials, which will require purchases, we include them in the estimate, but can also work with materials you have also purchased on your own.
The unused or removed materials from your newly created or renovated staircase project can be disposed of or collected and stored for future uses if you will require our services once again.
What do our staircase remodeling and renovation services in Ellenwood GA offer
Staircase Design – Choose and create a whole design project for a staircase renovation or remodeling, for your home.
Removal and disposal of existing steps or other materials – After your staircase project has been fully completed and does not require further additions or installations, we can collect and dispose of or keep your materials if required for further projects.
Installation of steps and risers (white or stained) – Install a thread of horizontals stairs, and risers that overhang on them.
The riser is the vertical surface of the stair. The tread on the other hand is the horizontal surface of the stair and the part of the stair you step on. Nosing is the portion of the tread that overhangs the front of the riser. Often a stair builder will talk about the rise and run of the stair.
Installation and repair of balusters (railing) – Install balusters on your staircase, which will be made from iron or wood, if required by our customers.
Installation and repair of spindles – Installation or repair of broken/damaged spindles from iron or wood.
Staircase Refinish – Re-plan your design and make changes, or proceed with the current design of your staircase to finish it.
Contact us
Each call made from our website will ensure you 15% off from your order
Monday to Friday: 08:00 – 21:00
Saturday to Sunday: 08:00 – 20:00
We accept any remodeling calls in Georgia for any of our 50+ supported areas